I'm almost a week late on the post, but I wanted to share with you guys a little recap of our first week with our little baby love!
Introducinggggggg (drum roll)…. sweet baby Hayes! We are beyond in love with this little bundle of chubby baby and have been in absolute heaven! He came into our crazy world bright and early Sunday morning at 2:27am at a nice and heavy 8lbs, 15oz, 21in long! He's a BIG BOY and we just can't get enough of his chubby little face!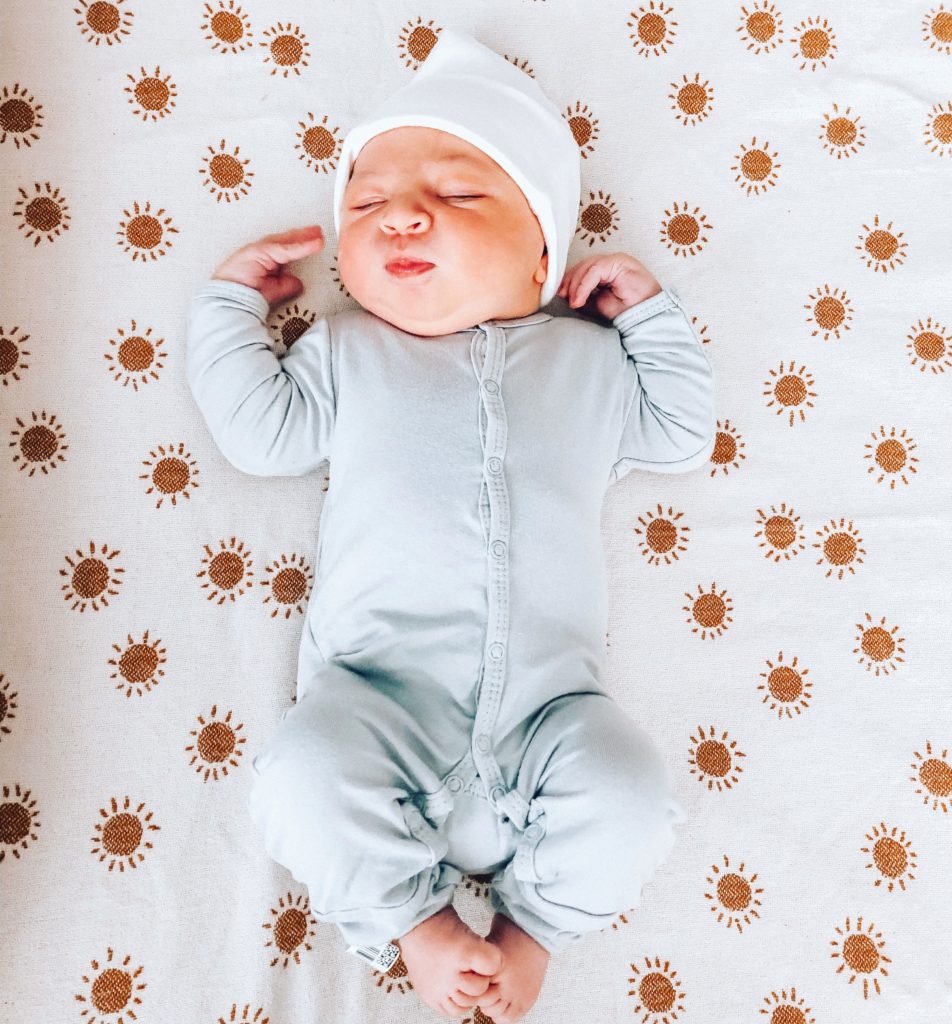 I'll give you a quick recap of his birth story: To be honest there's not much to tell! Other than, it was the longest 22 hours of labor and it was the worst pain I've ever felt in my entire life. I have no idea how people have babies without drugs, seriously guys. I had no idea I could feel like much pain and survive, holy shit. But luckily halfway through I got the good stuff and most of the second half of labor wasn't too bad. Let's just say I'm a big fan of epidurals. BIG FAN. Delivery was actually quicker than I thought it would be and we were out of the hospital by the next night!
Remember that whole list of things I packed for the hospital? Didn't use any of it. Well, I used the fuzzy socks and by Monday morning I tried to freshen up a little bit but they wouldn't even let me take a shower because I still had my IV in. But that was just me, I was literally writhing in pain to the point where I didn't care about anything I brought and by the time I did I wasn't really in any shape to use anything. I've heard some people have a totally different experience where they just chill for hours and are able to shower as soon as they were able to stand up, so if you're heading to the hospital soon, I suggest taking a look at my last post for ideas of what you might want to pack!
✧
But I'll give you this!!! My Week 1 Survival Guide with my Top 5 items you'll definitely want!
First and foremost ladies, the mesh panties and giant pads from the hospital are great. But when you get home and you run out of the ones you swooped when the nurse wasn't looking, you'll definitely want these postpartum undies
If you want another option, or need something that works better with non-sweatpants, you'll need to pick up some pads but these   mesh panties are pretty comfy and a good alternative to the ones you get at the hospital!
A couple other things you'll definitely want to grab before baby comes is a peri bottle and some perineal spray! These are a MUST.
And finally, if you're breastfeeding, I've got 2 words for you: nipple butter
✧
So I have to say, when we first got home we definitely felt that "what the hell do we do now" feeling. But each day has gotten easier and easier. Each minute we spend with our little babe we get to know him better and better. We've had one official onsie-ruining blowout, a couple failed attempts at a walk, but mostly we're just getting the hang of our new schedule and I have to say I'm pretty proud of how well we're adjusting as a new little family! Oh and PS, Max loves Hayes. That was definitely a big thing for us! But stay posted for more updates and news on how our little family is doing! Until my next post, I'll just be over here feeding, changing, and cuddling our chubby little man! xoxo, e