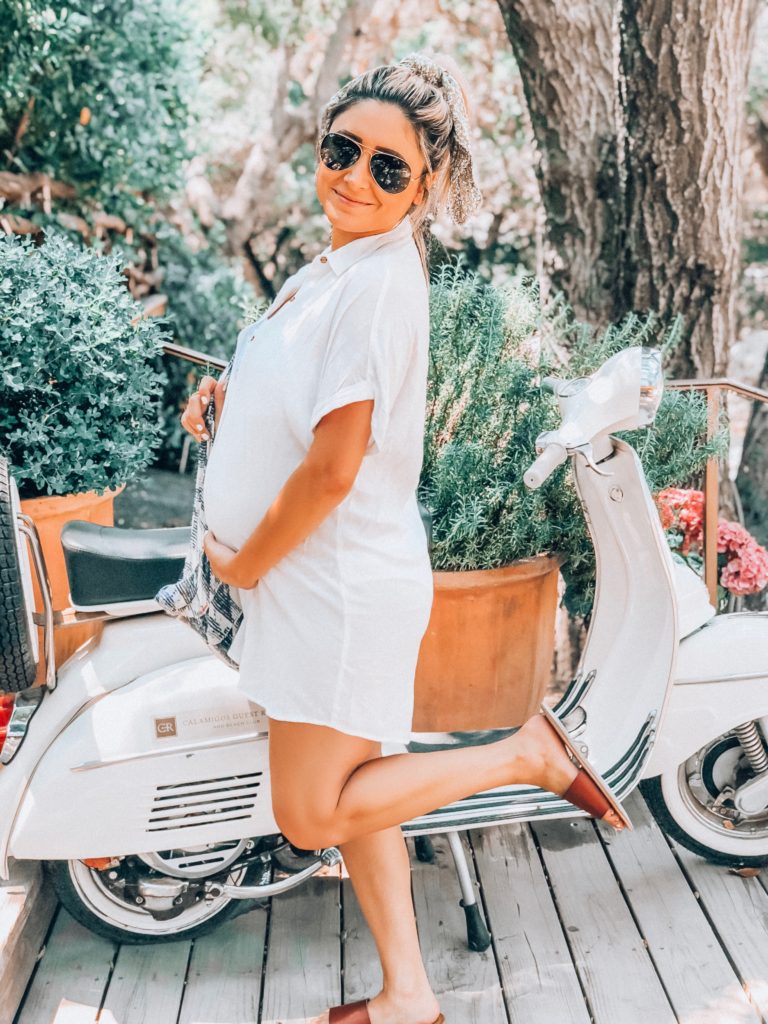 For a the last few months Jeff and I have been thinking about getting away for a weekend before we enter crazytown (lots of traveling for bachelor/bachelorette parties, showers, weddings, & major pregnancy). We didn't want to take any time off of work and honestly the thought of a long car ride or flight just sounds pretty terrible to me right now. So we thought about it for a while and we were SOOOO happy with the little weekend we came up with!
We came across this little gem, Calamigos Guest Ranch & Beach Club, and thought it was pretty cute. So off to Malibu we went! Can I just say, We haven't even been home 24 hours (as I'm writing this) and we're already ready to go back?! It was absolutely perfect!
The ranch was gorgeous! I kept telling Jeff I want my home to look exactly like this place. I could try to explain the details but it's probably better if you just check out some of the pics here. Even still, it doesn't do it any justice. Adorable chandeliers hanging from the trees throughout the grounds. The perfect combination of ranch and resort. AMAZING staff and service. And our little bungalow…. I could just move right in. Guys, it was love at first sight.
So the resort is up in the hills but they have a little beach club so we hitched a ride on their resort's Mercedes Sprinter (naturally) and enjoyed ceviche and Mexican sweet corn on the beach! I surprised Jeff with my mad ping-pong skills and played a little cornhole and we even made some friends at the bar! Seriously we couldn't get out of there before Jeff kept getting handed another drink. a few drinks and a handful of tastings later… (yeah too bad so sad for the sober pregnant lady over here) we made our way back up for the perfect relaxing afternoon by the pool.
Alright so I made dinner reservations seriously based off of googling this place that looked like it had a decent menu. I had NO IDEA that it was actually on the property and it was just adorable!!! We could have caught a ride with one of the resort Tesla's but we decide to walk down the little road on the property from our bungalow to the Malibu Café. Ok guy so picture this: cute little shops, markets, BBQ stands and a bar. Turf sprinkled with marque lit signs, picnic tables, giant lawn games, and turf covered couches. Country music playing while people played, sipped, and partied. I was in heaven. Then tucked behind was the Malibu Café where we sat under the stars with candle light and enjoyed drinks (mocktail for mama girl) and a pretty great dinner.
The next day consisted of coffee and breakfast by the pool, a little adventure exploring around the resort, more pool (obviously), a walk back to the Malibu Café for lunch- this time we grabbed a salad from the market stand- and just soaked up as much as we could before we had to head back in PCH & 405 traffic.
It was the absolutely best getaway. I mean Jeff and I always have so much fun traveling and checking out new places together. We loved Calamigos Ranch so much we seriously kept talking about coming back before we even left! But all in all I loved getting away with my huz, with no distractions between work or home things, and just have the best time together ♡